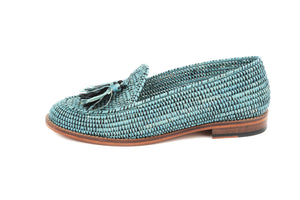 We hear the sound of his heels ringing frantically in this city of sheet metal and canvas.
In the streets of Bachkou, we are dealing with disguised nomadism. Sustaining the precarious takes on its full significance here.
There, the Parisian perfume has no effect, only the rhythm counts.
Upper : woven natural raffia
Dyeing : traditional craft dyeing
Outsole : leather
Inner sole : leather
The shoes are delivered in handmade hessian bags.
Handcrafted in Morocco.