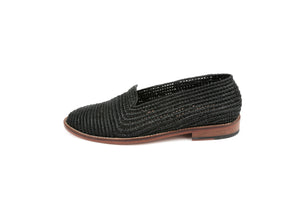 Rock The Classy Look. A Comfortable, Textured Feel. Walk Like A True Gentleman.
High Quality Raffia & Leather
« Raffia is a very strong textile Fiber, derived from a type of palm that grows in marshy environments and along rivers.»
All of our shoes are made the with finest and most durable materials on the market. We take pride in the quality our shoes deliver and the sheer comfort of our insoles.
Seduced by its qualities, the two musketeers decided to use this soft and solid material and to imagine a unique shoe, natural and comfortable!
Professionally Crafted
Our team of professional shoemakers hand crafts each pair of shoes so that the quality and comfort is beyond expectation.
Casual And Comfortable
Combining business casual and comfortable wasn't easy. Through trial and re-do, we have crafted the best and most comfortable dress shoe on the market.
Only Wear The Best
Over 23,000 pairs sold with a 97% 5 star rating. That's how you know the quality and comfort shows from the moment you put our shoes
« A day of hand weaving is needed to produce a pair of raffia shoes! »
The added value of our products lies in the handmade production of our Moroccan craftsmen. This know-how provides real traceability and quality and durability of our products. We want, through this collaboration, to enhance this material by creating a soft, original and trendy shoe.
Upper : woven natural raffia
Dyeing : traditional craft dyeing
Outsole : leather
Inner sole : leather
The shoes are delivered in handmade hessian bags.
Handcrafted in Morocco.